Press Release: Hundreds Gather to Support Triumphant Totnes Pride
FOR IMMEDIATE RELEASE – TUESDAY 5TH SEPTEMBER 2017
The Historic Market Town of Totnes in rural Devon, saw its fifth Pride event at the weekend, with an estimated 1500 people coming together to celebrate the lesbian, gay, bisexual, trans, intersex &/or asexual+ (LGBTQIA+) community.
Organisers of the popular event, Totnes-based social enterprise Proud2Be, laid on a whole host of events in the town.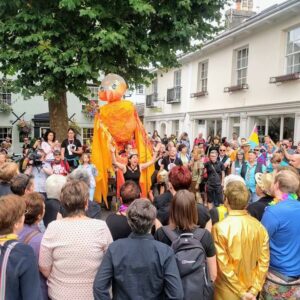 Hundreds took part in the colourful procession, which was watched by over 12 thousand people online via live stream courtesy of Devon Live.
Max Price, co-founder of Proud2Be, described Saturday's pride event as being "a very special day".
Max said: "We are thrilled with the wonderful feedback we have received so far about this year's Totnes Pride, with many people commenting on how inclusive, diverse and welcoming the event was- which are our markers of success."
This year's special guest was Proud2Be patron CN Lester, a singer-songwriter, writer, classical musician, and activist, named as one of the most influential LGBTQIA+ people in the country two yearsrunning by The Independent.
About this year's event CN Said: "All the thanks to Proud2Be for such an inspiring, thoughtful day. Feeling extremely lucky."
The day began with speeches from Totnes' Mayor Cllr Rosie Adams, Proud2Be founders Jae & Max Price and young activists Charlie Hindley and Erin Stratton.
During their moving speech, Charlie and Erin said: "Pride is important because it brings us all together into a real community and gives us representation on our terms. But most of all it is a positive and inspiring event that shows we are always here, that we will make the best of any situation and that we are not going anywhere." Speeches were followed by a minute's silence "for all those people who are no longer with us and those who, for whatever reason, cannot be with us today."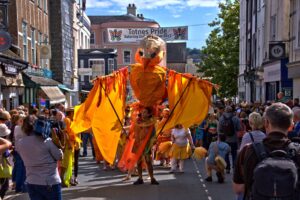 A ten-foot tall phoenix puppet led this year's Procession through the town, with an estimated 400 hundred people marching with flags, banners and placards and lining the streets to show their support. The puppet was the result of a collaboration between Proud2Be and local charity ROC Creative, a dedicated Art project which supports adults with learning disabilities.
During the day, one attendee tweeted "I've never felt more safe and happy in my entire life. pride was amazing. #TotnesPride."
It was at Totnes Civic Hall that attendees enjoyed a whole host of activities including workshops and talks, community stands, Dot's Cafe, a youth space, silent cinema and a variety of family-friendly activities including art and craft, junk modelling, face painting and much more.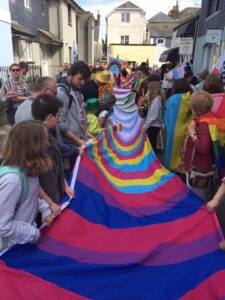 Throughout the day, the rainbow flag could be seen flying above the Civic Hall after a moving ceremony at the beginning of the week to launch the event.
The afternoon saw a panel discussion at Bogan House, where CN Lester was joined by local activists Mahi Ahmed, Charlie Hindley and Erin Stratton, to discuss whether labels limit or liberate people and communities.
The day event was followed by an after-party, held at Totnes Civic Hall. Partygoers enjoyed performances from local Disco Funk band GoldDust and DJ sets from Madame Souza, Rhi Rhi Rhythm & Mamma Boogie Oogie.
Proud2Be co-founder Jae said: "For us Totnes Pride is both a protest and a celebration. It is important that we acknowledge that although we have come so far, there is still a long way to go. All over the world, people are still being victimized and persecuted for simply being who they are. Pride will be relevant until this is no longer the case. The success of the event has also sent a clear message to the rest of the country, that LGBTQIA+ people do exist outside of large cities like London and Manchester and that Totnes embraces us and celebrates our difference."
Max continued: "A small team of dedicated volunteers work tirelessly throughout the year to ensure Totnes Pride is an event we can all be proud of. We would like to thank them and all the Pride volunteers, funders, sponsors, supporters, guests, attendees and performers- without whom, none of it would be possible."
To find out more about Proud2Be and to get involved in future events please email info@proud2be.co.uk or go to proud2be.co.uk.