Are you LGBTQIA+, 18+, and living in Devon?
Proud2Be offers FREE 121 support where you can be who you are and talk about what you want with a kind and supportive LGBTQIA+ support worker.
It is likely that you will have some questions – we have answered the most frequently asked questions that we get asked about the service:
Can I choose which 121 support worker/volunteer I have?
Unfortunately not. We match 121 support workers/volunteers to service users based on your initial 121 assessment. We always try to be thoughtful with matching and are always open to feedback. Matching also depends on availability, location, and other factors which is why we can't offer people the opportunity to choose their worker/volunteer.
What if I don't like my 121 support worker/volunteer?
If you are unhappy with the volunteer/worker you have been matched with, please talk to Proud2Be's adults and families services coordinator (who will be facilitating your initial assessment).
Is your 121 support like counselling?
No. We don't offer counselling services at Proud2Be. Your sessions might be therapeutic in nature (depending on what you are talking to your worker/volunteer about) but our 121 support is low-level emotional and practical support. If you think you would be more suited to counselling, please do feel free to get in touch and we can signpost you to relevant services.
Can I be friends with my 121 support worker/volunteer after our sessions are completed?
No. This is a boundary that is unmoveable for us. Your support person is a professional who is there to support you. There will always be a power imbalance when you are working with a professional, however much you get along and it is important that things remain professional.
If you find yourself developing feelings for your support worker/volunteer or you feel that they are overstepping their professional boundaries, please speak to Proud2Be's adults and families services coordinator (who will be facilitating your initial assessment) for support.
Do I have to pay for my 121 sessions?
No. The service is funded by charitable organisations and so is free to you. If you are in a position to, please consider donating to Proud2Be. Details can be found on our website.
Will you need to share my information with anyone else?
You can expect that any information you give to a support worker is treated as sensitive and confidential and will not be shared UNLESS:
You ask us to
We believe that you, or another person, is in danger or is being harmed. We would always try to talk to you about this first.
You disclose that you are involved, or plan to become involved in acts of terrorism.
We are told we have to by law, for example for a court case.
If your support worker/volunteer needed to break confidentiality they would do their best to gain your consent and involve you in the process.
Being LGBTQIA+ in itself is not a safeguarding issue and for this reason, we wouldn't share information about your identity with anyone else in your life – unless you ask us to.
What will happen during the 121 sessions?
We offer practical and low-level emotional support. Sessions are led by you. You might need some help with filling in forms, getting out into the community, accessing our groups, and/or talking about your identity.
Where will the 121 sessions happen?
Support workers/volunteers can meet you; at home, outside (if it's dry), at a cafe, at the Proud2Be Hub in Newton Abbot, or online. If you live in another part of Devon we can offer sessions online.
How many sessions will I have?
You can have up to 12 sessions (usually lasting an hour each) but you may not feel you need that many – this will be led by you!
You can also have a trial session with no pressure to continue if it doesn't feel right for you – you can always get in touch with us at a later date if you change your mind.
Who can make a referral?
You can refer yourself into the service, or be referred by a someone who works with you (like a GP or social worker).
If you are referring on behalf of somebody else, please talk to them first about what is on offer and whether they would like some extra support.
I am interested, what happens next?
Fill in this referral form
Once you have completed the referral form, Jules (our Adults and Families Services Coordinator) will be in touch to arrange an informal assessment (either in person or online)
If you are eligible for support and you feel that it is right for you, Jules will arrange your first meeting with a support worker where you can start to get to know them and ask any questions you may have
If you have any questions about the referral process, get in touch with Jules, our Adult & Families Services Coordinator:
If you would like to have a chat about any of our community services, feel free to pop along to the Paignton Community Hub at Paignton Library (Great Western Rd, Paignton TQ4 5AG) on the 2nd Monday of every month, from 9.30 am – 12.30 pm, where you will find Mel, our Youth Services Coordinator (left of image), and Jules, our Adult and Families Services Coordinator (right of image).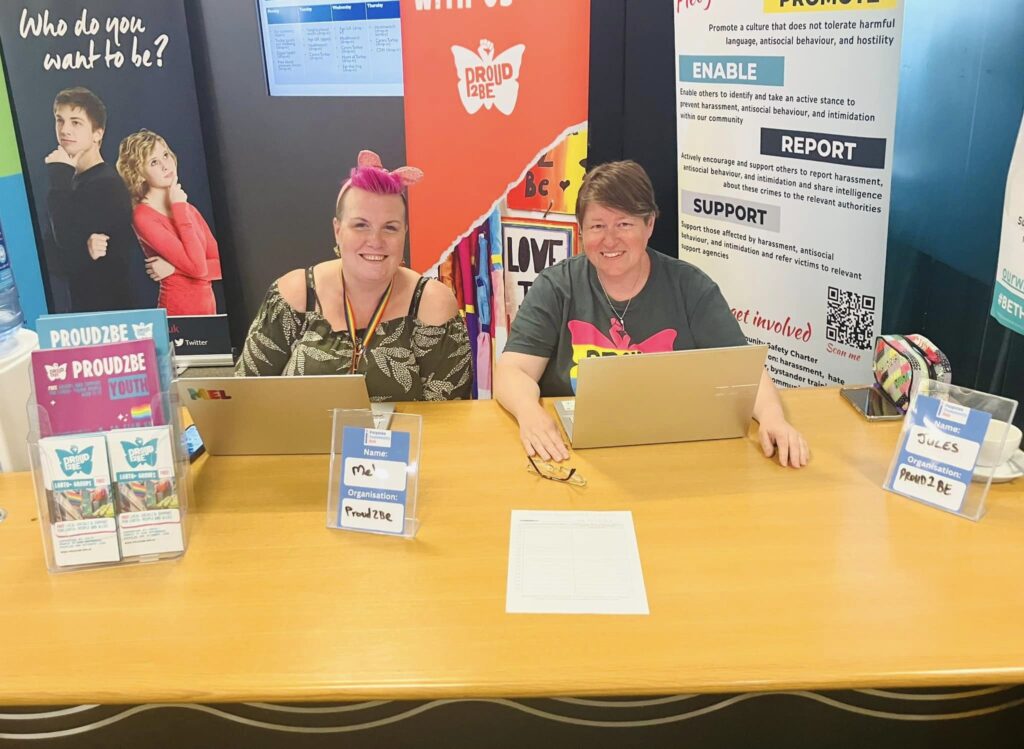 School Counsellor
I recently had my final counselling session with a pupil who you came into school to see. He told me how meeting you had such a positive impact on how he was feeling at that time. I wanted to say a huge thank you for reaching out to him at a time when he needed some answers.
School Counsellor