PRESS RELEASE: Totnes Set for the Pride of Its Life!
- Press Release Totnes Pride

FOR IMMEDIATE RELEASE – THURSDAY 4TH AUGUST 2022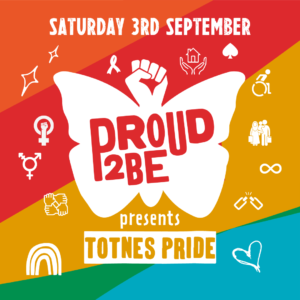 Devon-based Proud2Be is set to host their tenth Pride event in the historic market town of Totnes on Saturday 3rd September 2022.
The grassroots user-led social enterprise is laying on a whole host of free activities, which will bring the LGBTQ+ (lesbian, gay, bisexual, trans, questioning, queer, intersex, asexual, pansexual, non-binary + more) community together with their allies, to celebrate difference and demand queer liberation!
The day kicks off at 10.30am outside The Royal Seven Stars. The award-winning Samba ROC Band will then lead a procession up Fore Street, High Street and Cistern Street to Rotherfold at the top of the town. The road closure will be in place between 10.00am – 1pm from the bottom of Fore Street up to where Cistern Street meets The Lamb.
Community bus service Bob the Bus will be running a park and ride service from 9.45am at King Edward VI Community College (KEVICC) and will also be transporting wheelchair users and/or those with mobility issues up the procession at 11.00am.
It is at Totnes Civic Hall and Birdwood House Café, where visitors can enjoy a drumming workshop, refreshments, a quiet room, and a variety of family-friendly activities including art and craft, face painting and much more.
This year, for the first time, there will be a 'Pride Market' at Rotherfold where visitors of all ages can enjoy outdoor games and drag story time. There will also be live music and a whole host of community stalls.
There will be a pop-up changing places facility at Rotherfold, accessible gender-neutral toilets at the Civic, a quiet room at Birdwood House Café and two British Sign Language (BSL) interpreters available throughout the day.
Due to funding from The National Lottery Community fund, entry to all daytime events is free.
To mark the event Totnes Town Council have agreed to fly the rainbow flag over Totnes Civic Hall, from the 26th of August.
Inspired by the mental health issues they faced as a result of the bullying, isolation, and discrimination they experienced growing up as LGBTQ+ in a rural village, twins Max and Maya Price set up Proud2Be in 2011 by launching the Proud2Be campaign which now features videos and photos from various public figures and members of the public.
In a short time, Proud2Be has established itself as a well-respected social enterprise, facilitating various groups and events for adults and families, including an online group, an in-person evening group in Newton Abbot, an in-person Family-Friendly Saturday Social in Newton Abbot, a low-key in-person group in Newton Abbot and a 121 adult support programme.
Proud2Be also runs a youth project, which includes online and in-person weekly youth groups in Totnes and Newton Abbot, 121 youth support, and a family coffee morning in Newton Abbot. In September, Proud2Be will be launching a new LGBTQ+ youth group in Torquay.
Proud2Be delivers interactive workshops to young people and awareness training to organisations and schools around the UK.
About this year's event, Proud2Be co-founder Max said:
"The last two years have been extremely challenging for many of us. Many of the people we work with tell us that the pandemic has exacerbated the issues they faced pre-covid. We are pleased that we have been able to offer safe spaces for people to come together for mutual support – and we are so excited to be able to host Totnes Pride again this year. The Pride Action Group has been working tirelessly to ensure our event continues to be an inclusive and thoughtful event and we invite everyone to come and join us for our tenth Pride in the town."
Proud2Be are looking for volunteers to help on the day. If you would like to get involved, please email jules@proud2be.org.uk.
To find out more about Totnes Pride, please visit proud2be.org.uk or email hello@proud2be.org.uk.