PRESS RELEASE: Devon Town Comes Together to Celebrate Ten Years of Pride!
- Press Release Totnes Pride

FOR IMMEDIATE RELEASE – TUESDAY 6TH SEPTEMBER 2022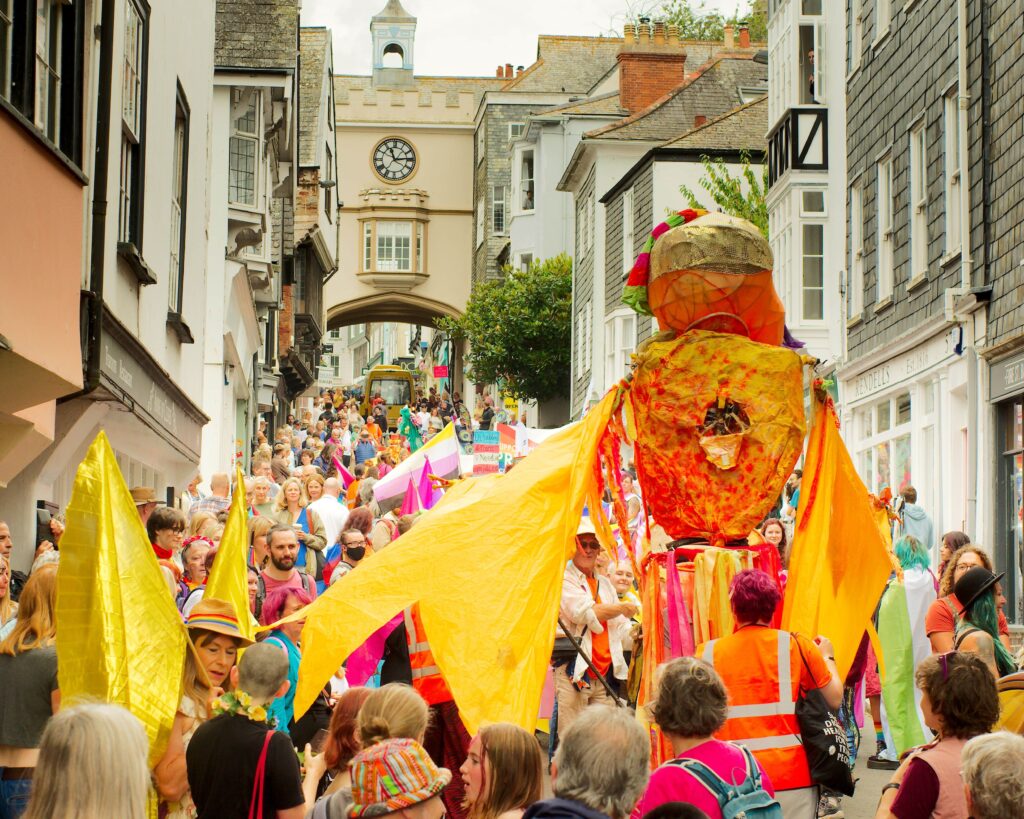 The Historic Market Town of Totnes in rural Devon, saw its tenth Pride event at the weekend, which brought the LGBTQ+ (lesbian, gay, bisexual, trans, questioning, queer, intersex, asexual, pansexual, non-binary + more) community together with their allies, to celebrate difference and demand queer liberation!
Organisers of the popular event, Devon-based social enterprise Proud2Be, laid on a whole host of free events in the town.
The day began with a street procession which was led by the award-winning Samba Roc Band, which is part of ROC Creative, "a dedicated art project which supports adults with learning disabilities."
Photo credit: Neil Gratton Photography
Community bus service Bob the Bus also took part offering free wheelchair accessible transport along the procession route.
It was at Totnes Civic Hall and Birdwood House Café, where visitors enjoyed a drumming workshop, refreshments, a quiet room, and a variety of family-friendly activities including art and craft, 'worry worm making', face painting and much more.
This year, for the first time, there was a 'Pride Market' at Rotherfold Square where visitors of all ages enjoyed outdoor games, live performances, and a whole host of community stalls.
Throughout the day, there was a Mobiloo pop-up changing places facility, and two British Sign Language (BSL) interpreters on hand to ensure that everybody could access the activities.
After the event, attendees shared their thoughts about the day:
'Great Pride Proud2Be – the most accessible pride I've ever been to or heard about, with Bob the Bus at the front taking people who couldn't walk the March, an accessible porta loo, BSL interpreters, and a quiet room. And a sober event. We loved to see so many intersections catered for.'
'Fantastic atmosphere yesterday at Totnes Pride. A wonderful day! Inclusive, with warmth, love, heart-warming speeches, and fun!'
Inspired by the mental health issues they faced because of the bullying, isolation, and discrimination they experienced growing up as LGBTQ+ in a rural village, twins Max and Maya Price set up Proud2Be in 2011 by launching the Proud2Be campaign which now features videos and photos from various public figures and members of the public.
Proud2Be has established itself as a well-respected social enterprise, facilitating various in-person and online groups for adults and families, and a 121 adult support programme.
Proud2Be also runs a youth project, which includes online and in-person weekly youth groups in Totnes, Newton Abbot, and Torquay, 121 youth support, and a family coffee morning in Newton Abbot.
Proud2Be delivers interactive workshops to young people and awareness training to organisations and schools around the UK.
About this year's event, Proud2Be co-founder Max said:
"We are delighted with how the day went. A small team of dedicated volunteers work tirelessly throughout the year to ensure Totnes Pride is a thoughtful and inclusive community event. We would like to thank them and all the Pride volunteers, funders, sponsors, supporters, attendees and performers- without whom, none of it would be possible."
To find out more about Proud2Be and to get involved in future events please email hello@proud2be.org.uk or go to www.proud2be.org.uk.